About Princess' Potpies

A message from Princess - Our Chief Potpies Officer
My desire to cook soul food is due to two wonderful women, my mother and sister, the late Myrtice L. Harris Williams, and the late Jacqueline Williams Clay. I spent countless hours in the kitchen watching, learning and assisting. I learned that a real cook knows how great food should taste. I had to change a few of the old recipes to make them a little healthier, no salt pork here.

Many years later, beginning of COVID-19 Pandemic, when many of us were under restrictions and bored at home, I created a seafood chowder. I decided it needed a pastry crust topping and that's when the idea of Princess' Potpies took shape. After describing the chowder to my immediate family members, they were obliged to be my taste testers for Princess' Seafood Potpies. I could not leave out the main person, my father, George A. Williams, not a fan of seafood; he sampled Princess' Chicken Potpie. Everyone knows family members are your best critics; mine encouraged me to sell my creations by reaching out to family, friends, church members, former classmates and social media. With God's help, things got busy. Still bored, "What can I do next?" Thanksgiving is coming, Princess' Turkey Potpies, instead of potatoes, I made cornbread dressing with a side of Princess' Cranberry Sauce. As in any business, you must provide and produce what the customer wants, Princess' Veggie Potpies, where the customer specifies their favorite veggies.

Potpies were not enough, Princess' Sweets 'N Treats; cinnamon rolls; from Princess' Cinnamon Rolls with Glaze to Princess' Cinnamon Rolls with Cream Cheese Icing, to now Take 'N Bake Princess' Cinnamon Rolls with White Chocolate Cream Cheese Icing.

There's always room on the menu for expansion. For example, Princess' newest additions to the menu - Seafood Lasagna and Veggie Lasagna!


Princess' Potpies LLC
Family Dinners
Dinner for Two
Event Catering
A big thank you to my college friend, Hillary, my CPA (Chief Potpies Advisor).

GOD IS MY EVERYTHING!!!

Sincerely,
Princess
Checkout Our Menu
Contact Our Team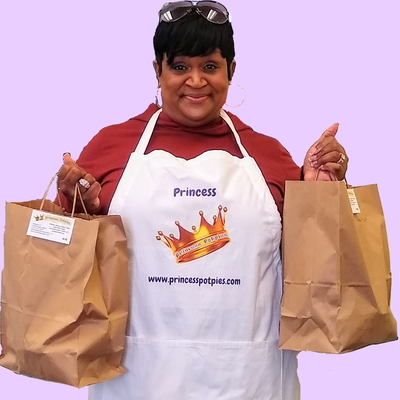 Testimonials

"I just ate some of the lasagna. Delicious! 🎉🎉The best surprise...no tomato sauce! 👏 "
Lynn C.
"Mark ate almost an entire potpie!"
Theresa F.
"It was delicious. Order me another please!"
Judy S.
"Girl everyone is stuffed to the brim. The food was so delicious!"
Cheryl C
"Good morning, the lasagna was really good and for our next ladies' night, I'll probably be getting 2, they're going to love it!"
Gwen J.
"Ha! Must have been good. Said he was eating seafood potpie and watching the game. After that all I heard was crickets. No sound or text back...lol"
WW
"I am so happy to be having this seafood lasagna for dinner. Thank you, thank you, it is delicious."
Renee' M.
"So I waited to eat my Chicken Potpie on a day like today! Boy oh Boy! Nice flakey crust with good size portions of chicken. Seasoned just right. Just delicious."
Ann L.
""Hunty"! U did this thing! I only wish I was eating bread...a crusty buttery roll would have been perfect! 😍😍Let me know when you're doing it again...it will definitely be shrimp or veggies for me...Luv ya! 💗"
Wanda W.
"My son was talking about how good the seafood potpies are, lol, he loves them, lol"
LaTanya C.
"My daughter said you're better than Cinnabon...help! She and her son are eating up my stuff...she hollering do that Ms. Princess 😂😂"
Charlene Y.
"Sista Sista Sista, these rolls are soo good 😋😋 and the lasagna...no words 😋😋"
Charlene Y.
"Princess the pie was even better this time, my only regret is that I didn't order two of them! "
Carol S.
"I meant to text you about the lasagna. I tore it up! Ain't get no pics of nothing! 😂"
Vernice W.
"Good evening, I had my Potpie for dinner this evening. It was delicious. 😄"
Michelle R.
"Yesssss both potpies were so filling…😍😋😍"
Queenatees L.
"Good morning there were actually mixed reviews regarding the seafood lasagna. My husband and brother-in-law weren't fans of it. Me and my step son liked it."
Samantha W.
"Good morning auntie, yes she did enjoy them!"
Tanya C.
"Girl! I am waiting for Hubby so we can eat together, but he is taking tooooo long 😂. I had to taste it and OMG so gooooodddddd!!!! Thanks again."
Tammy C.
"Hi Ms. Princess! YOUR PIES were a pyrex bowl full of HEAVEN. It was soooo good that I asked your niece if she thought you had any pies left over from someone who didn't pick up theirs. Any idea of when you will be making more? I can't wait for the Turkey Potpie!!!! My husband fell in love with them at first bite and darn near licked the bowl at the end."
Angela F.
"Thank you so much for the rolls, they are delicious...I took one to my daughter and she ate it in like three bites."
Nicole G.
"Yes! She said "that turkey one was good, but the seafood one, oh my goodness" LOL I said I'm glad y'all enjoyed them."
Ketura W. for Gail C.
"Good afternoon cuzn👏 … I just wanna say IDK if I can support you again unless U help me with a gym membership! 😂I ate the whole freakin 🍲for dinner last night! Lol It was delicious!"
Ketura W.
"Gurrrrrrrl when are you making potpies again??? This is ABSOLUTELY delicious!!!!!😋😋😋"
Annette L.
"We absolutely loved it all and the cinnamon rolls. This household is happy with full bellies!"
C. Bell
"Honey just ate his Potpie...He said, "She made that...that was good, that was more than good, that was excellent. She got something going. She gonna put Marie Calendar out of business! We gotta get another one... dag...that was good. I gotta tell somebody about that..." Princess, what you do to my husband?! 😄 😎"
C.T.
"Delicious!!!!!"
Phillip W.
"GURRRLLL LAAAED JEEEZUS HAD MERCY! THESE HERE POTPIES💃💃💃"
Janice J.